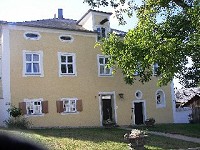 Exclusive annexe: Suite Laure de Pew
The former presbytery is a baroque axial building from 1721 built by the well-known master builder Gabriel di Gabrieli. Today's owners have renovated the house with a loving hand and have furnished the Suite Laura de Pew with unique antiques. Guests who appreciate such an environment are very welcome. The location is ideal for trips to the towns of Regensburg, Ingolstadt, Nuremberg and Munich. Golf courses, airfields and swimming baths are also close by.
Booking, further information, pictures, tariffs etc.