Home
High above the picturesque Altmühl Valley...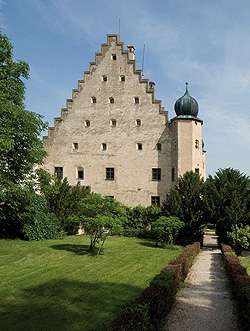 ...lies Eggersberg Castle, situated between Munich, Nuremberg and Regensburg, just 35 km from Ingolstadt, in the Altmühl Valley nature reserve.
A lovingly renovated and listed castle ensemble with a neighbouring rectory and an exposed castle ruin with breathtaking views of the Altmühl Valley.
In its idyllic position, our castle hotel offers an atmospheric ambience for events, family parties and weddings. Couples have the exclusive opportunity of holding their civil marriage ceremony in our wedding room. The perfect setting for a fairytale start to your lives together!
Feel like the lord of the manor in our historically furnished rooms and suites, enjoy some time out.
Not only can you celebrate with us, but you can also work in a relaxed atmosphere behind thick, historic walls; after all Baron von Eck made many a far-reaching decision, many of which are still in force today.
Our Renaissance castle offers plenty of room for holding successful meetings, seminars and workshops.
The pure air and pristine surroundings of the lower Altmühl Valley provide the ideal conditions for successful private meetings.
Just looking to spend some time together as a couple?
Relax in the totally peaceful natural surroundings on our terraces, in the Serenadenhof or in the castle park with its "White Garden"; we will be delighted to spoil you afterwards with a romantic candlelit dinner with selected dishes and sophisticated wines from our castle wine cellar.
The highly exclusive "Laura de Pew" suite has been opened in the neighbouring "Alter Pfarrhof" which dates from 1722. No wish remains unfulfilled here! Two bedrooms, a marble bath, and a small, exquisite library, so that you can enjoy your weekend or holiday in the Altmühl Valley to the utmost. The hotel's own chapel can also be used on request.
If you are looking to combine culture and nature, Eggersberg Castle is ideal. Our castle hotel is situated directly on "Germany's loveliest hiking trail 2012", the Altmühl Valley panoramic trail, and the famous Altmühl Valley cycle path from Gunzenhausen to Kelheim, which is 167 km long.
Culture follows nature!
Visit our Hofmark Museum, a private collection of unique exhibits from the former Hofmark of Eggersberg Castle.
Eggersberg Castle has a wealth of history.