Hotel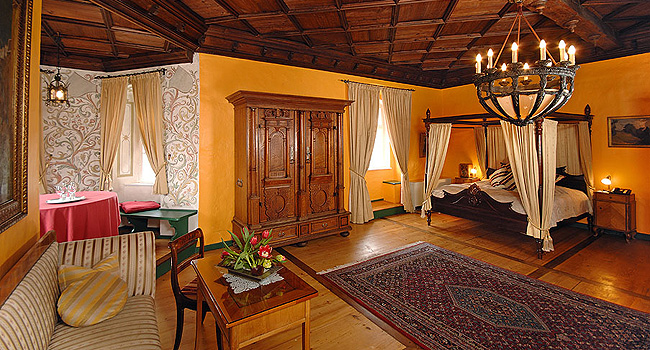 Eggersberg Castle is a typical example of a Renaissance Hofmark, the smallest jurisdiction of the country at that time. There is no denying that the castle is an impressive sight with its 100 windows, 50 m in length and 25 m in breadth. The castle and the service buildings have a roof area of more then 2,000 m2, which is enough to make the present-day owner shiver. The Renaissance building is adorned with two stepped gables and a total of three typical corner towers that are topped with an onion dome. There has never been a forth tower, because instead the stables had been built in the castle courtyard. The house was built by the jurist Adam Jocher von Egersperg in 1604 and became the property of Dr.jur.utr. Robert F.E. Weigand in 1962.
With much effort and love he transformed the almost ruinous and empty former Hofmark into a small
Renaissance-Hotel
with 13 double rooms/suites and 4 single rooms with mostly antique furniture. The room rates include a large breakfast buffet incl. coffee, tea and juice. The comfortably furnished rooms with view of the original Danube valley invite you to relax and dream.
Make use of the various areas of Eggersberg Castle to arrange your event. The park, vaulted cellar, theatre hall, ancestral portrait gallery and castle courtyard are at your disposal, as well as the stables and the grounds with the ruins of the ancient castle. And not to forget the riding areas...

Please feel free to contact us for any further information. We will get in touch with you immediately. No matter what kind of activities you have in mind, the team at Eggersberg Castle will make sure that you spend a memorable, exciting, interesting but also relaxing time.

Would you like to spend your holiday in the lower Altmühltal valley?

We are happy to send you a personal quotation to suit your requirement.